"Having to go to hospital on Christmas day evening nearly broke my heart"
TOUGH TIMES Former Meath player and coach on the hardest battle of her life
Image 1 of 5
Image 2 of 5
Image 3 of 5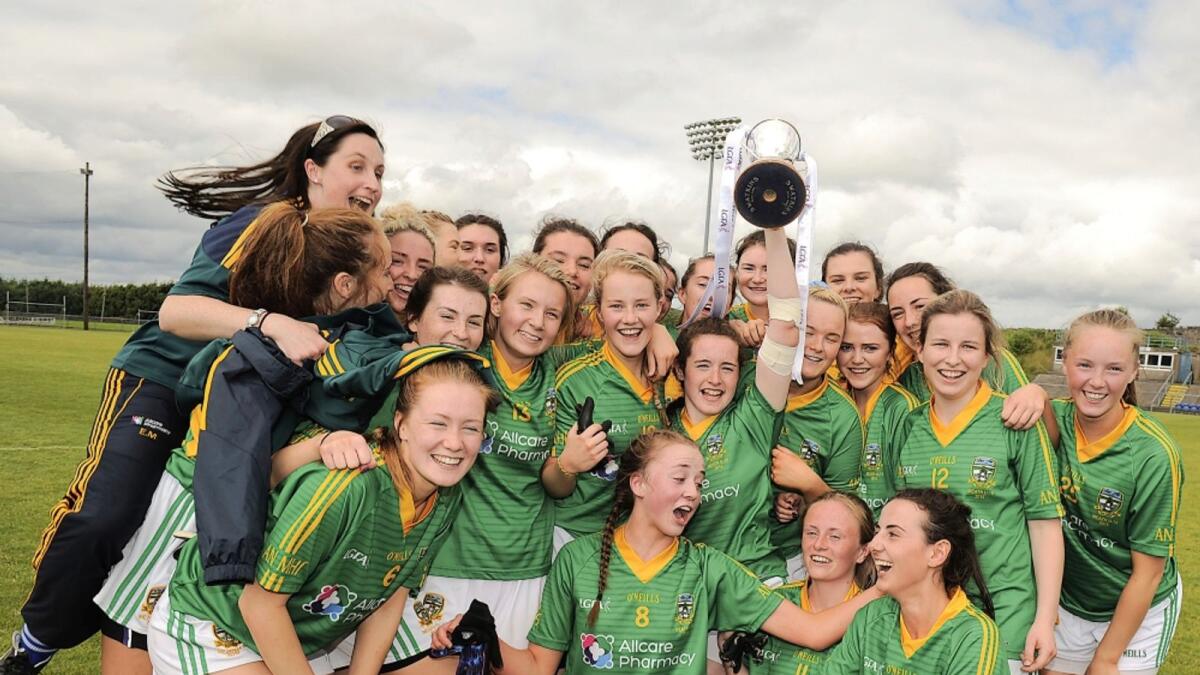 Image 4 of 5
Image 5 of 5
Previous
Next
Last September Eimear Murray dived full length to make a save during Boardsmill's Ladies Junior D FC final against Donaghmore/Ashbourne in Trim.
It was the type of stop the former Meath senior and junior goalkeeper had pulled off many times in her career. Bravery, agility and toughness are her forte, so when it took her a little longer than usual to get to her feet after making that stop she put it down to a niggling injury that had bothered her for a few weeks.
Eimear had struggled with chest and back pain in the closing weeks of the club season and her participation in the final was in doubt as she couldn't train properly in the days leading up to the game.
The Boardsmill player put the pain down to a hiatus hernia, something which had often given her chest pain, and ploughed on.
That flying save knocked the wind out of her and after some more investigation it transpired Eimear had a tumour in her chest and needed intense and immediate treatment for Non-Hodgkins Lymphoma - her life changed in a matter of weeks.
From playing that final on 19th September, she was preliminary diagnosed in Navan Hospital on 28th October, confirmed as having cancer on 3rd November and started chemotherapy nine days later.
Between all the comings and goings, to heap further misery on an already very difficult time she also caught Covid - it never rains but it pours.
"I had given up football after having our son and I missed it so much that I decided to get back coaching the Boardsmill junior team and of course one thing led to another," Eimear told the Meath Chronicle.
"I ended up back playing in goals and I was delighted to get back because it was great to be playing with a wonderful group of experienced players and younger girls that I can coached underage with Boardsmill.
"Before the Junior final I started to get really bad pains in my chest and in my back. At the time I thought it was muscular because I was back playing and then I had lost weight, but I put that down to being so busy at home, being back playing football and then I was back to work teaching in September too.
"I went for a scope and an ultrasound and they came back clear, but I still felt there was something amiss. Then I ended up getting Covid and I got really sick with it. I had a really bad cough and started coughing up blood even after Covid calmed down.
"Because clots can be common with Covid I drove myself to Navan A & E, as I was still coughing up blood. They did a chest x-ray and took some blood. Then they said they wanted to do another test called a CT scan. When the doctor said to me he wanted to talk to me in one of the side rooms that's when I became really worried. He explained that they didn't find a clot, but that I may have lymphoma. I asked him if that meant cancer, to which he answered yes. I was in shock.
"I was admitted straight away because they had to do a biopsy and keep me in for observation. As my Covid test was still positive, it stays in your system for 90 days or so, I was put in the Covid ward, which meant no one was allowed to come to the hospital to be with me. This was the worst part and was very hard. To be told that you potentially have cancer is an awful thing to hear, then to be alone and not have any visitors was terrible," she recalled.
After spending three nights in hospital, Eimear got home just in time for Halloween and a few days later, she a call came to confirm that she did indeed have lymphoma. There was no time for Eimear to dwell, as the next day she was rushed to the Mater Hospital by ambulance to be admitted.
Expecting to be only in hospital for a couple of days for more tests, it transpired that Eimear had a massive tumour in her chest, which meant there was a strong possibility of complications to occur at any time. This resulted in her being kept in and within a week of being there, starting intensive chemotherapy and immunotherapy, to be given for 24 hours a day, for five days, every third week.
Even when she did get to go home there were regular trips back to the hospital to monitor her bloodwork, have dressings changed and to have blood transfusions. There was still more trauma for Eimear as she lost all her hair within a couple of weeks of the start of treatment.
"One of the most traumatic things of the whole situation for me was losing my hair. Now I have no eye brows or eye lashes either and even though people say to me that my hair will grow back it has been very traumatic to go from having long straight hair to none. Not only do you not feel like yourself anymore, but now I don't look like myself either," explained Eimear.
"I now also have neuropathy, which is pins and needles and tingling in my hands all the time, a side effect of treatment. I get really bad muscle cramps in my hands, arms and legs too. No part of your body is unaffected by chemotherapy, I have huge muscle wastage. A simple thing like getting up off the ground is difficult for me.
"To go from being so independent and so active to not being able to open a bottle of water is terrible,"
Eimear's intensive treatment was as an inpatient for 24 hours a day for five successive days every third week. She also needed four lumbar punctures. Those days felt like months for her. Due to her vulnerable condition and Covid restrictions she was confined to her ward, not allowed visitors and allowed only a half-hour a day to have a shower, change clothes and get back on the chemo. Naturally this took its toll mentally.
However, Eimear is thankful for the support of her family, friends, work colleagues, the whole community in Boardsmill and the magnificent staff in the Mater Hospital. Without the support of her sisters Maeve, Cliona and Aoife, her mother Claire, her father Eamonn (manager of the Meath Ladies senior football team), her husband and son, Eimear dreads to think where she would be.
She also reserves special praise for the staff in the Mater hospital, as they endure to work under the pressures of this gruelling pandemic, but yet continue to provide excellent care and offer friendly faces to their patients.
The staff became her 'new' friends and family. Some amazing staff members used their own money at times of need for Eimear, for which she will be eternally appreciative.
As well as suffering from mucositis (painful inflammation and ulceration caused by chemo), which limited her ability to eat solid foods, Eimear also endured temperature spikes due to being neutropenic with possible infections, which landed her in A & E a couple of times. As a result, from January, Eimear spent the majority of the next three months in hospital, spending a few days here and there at home with her husband and son.
"Not being home was tough, especially not being able to give or get cuddles from my son, but the staff in the St Vincent's ward in the Mater were amazing. From the doctors, the nurses, the HCAs, the cleaners, the caters, they are all just so lovely and good to me," said Eimear.
"Because of the way my treatment plan worked out, I was due back into the hospital on the day before Christmas Eve, but I begged with the doctors to let me stay home until Christmas day, so I could spend the better part of the day with my son and husband. They eventually agreed to let me wait until Christmas day evening.
"It was lovely to spend most of Christmas day at home, but having to go to hospital on Christmas day evening, nearly broke my heart. Having to say goodbye to my two year old son was so tough, it was so hard being away from him, especially at such a family time of the year."
That connection with her son gave her the inspiration to maintain the fight. Eimear's main concern was for her son and her husband who had already endured more than their fair share of hospital stays and doctor visits in 2019 due to her son's lifelong condition.
However, it was Eimear's son's resilience and funny sense of humour that inspired her to battle on through each exhausting treatment.
Another source of inspiration and drive for Eimear was watching her father manage the Meath ladies to All-Ireland glory in Croke Park in the week before Christmas.
Having coached many of the Meath players at under-14, under-16 and minor level Eimear has a special connection with her dad's team and while she missed out on celebrating after the final win over Westmeath she admits that that victory was certainly a win the whole family needed.
"I'm not sure if we would have coped with another loss in that All-Ireland final. I watched all the games in the hospital, but was home for the final and we watched it together as a family," she said.
"Those girls mean so much to all our family and for me to have coached them during their underage careers is a source of huge pride, so to see them win an All-Ireland was amazing. Not being able to celebrate with them was a bit of a bummer though."
Despite the horrendous last five months Eimear maintains such a hugely positive outlook on life and her infectious attitude brings a smile to her family and friends around her. She is so grateful for the support she has received and is at pains to stress just how important her support network of doctors, nurses, family and friends are to her.
"I want to thank my family, who have been such a incredible support. My husband has essentially been a single parent throughout all of this, he has had to do everything for our son while I've been laid up," she said.
"My parents and sisters have been amazing. Twice a week they have dropped me up to hospital for appointments and for my treatments and I also have to get daily injections which my mother and sister give me.
"They have also been very hands on when helping out with our son and they have also been a huge emotional support through it all. Words can't cover how grateful I am to have such a wonderful support network, they are amazing.
"My friends, work colleagues, extended family and everyone in our community have been so great too, staying in touch and sending gifts in the post. Due to Covid people haven't been able to be as present as they would have been in regular times, but my friends have been great and we are fortunate to have an amazing child minder too.
"If there is one message I would to put across it is to encourage people to trust their own instincts, listen to their bodies and look after themselves. If you think something isn't right please get it checked out and if you aren't happy get another opinion.
"We have an amazing health service here and the people working in the hospitals are such great people, but people need to look after themselves and if you feel off or think something is just not right, get it checked."
After months of intensive chemotherapy Eimear is now on a 'break' from treatment. Because of the uncertainty of Non-Hodgkin's Lymphoma it will be a while before she finds out how successful the treatment has been, so she is not counting her chickens, but she is hopeful for the future.
On Sunday 2nd May Boardsmill GAA will hold a virtual Cycle for Eimear from Malin Head to Mizen Head to help raise fund for Eimear and her family. 60 'cyclists' at venues in Boardsmill GAA, Trim GAA and Navan RFC will cover the 30 hours needed to ride the 601kms from Ireland's most northerly point to the country's most southernly point. Donations can be made on the GoFundMe page Cycle for Eimear.