'Survivors must be allowed access to birth information'
Everybody who was adopted or brought up in a children's home should be able to access their own birth information, according to a Navan survivor of a mother and baby home.
While the publication of the report by the Commission for Mother and Baby Homes brought back horrific memories for many survivors around the country, for Patrick Keegan, one of the major wrongs that needs to be rectified is the way so many obstacles are put in the way of people trying to find their birth parents.
Paddy was reunited with a brother he never knew he had a few years ago. His brother, John, has since died and Paddy says if the authorities hadn't been so uncooperative, they would have more time together
"I am glad that I got to met John, I'm just sorry that we didn't have longer to spend together," he said.
Patrick who lives in St Patrick's Terrace grew up in St Vincent's Orphanage in Drogheda and the notorious Artane Industrial school. Paddy (72), has since lived a happy and successful life, but his extremely difficult childhood is something that will always haunt him.
"It was difficult growing up without anyone - I never had anybody that cared about me as a child. I remember people coming to foster or adopt children and we'd all be lined up, but I was never picked," he recalls.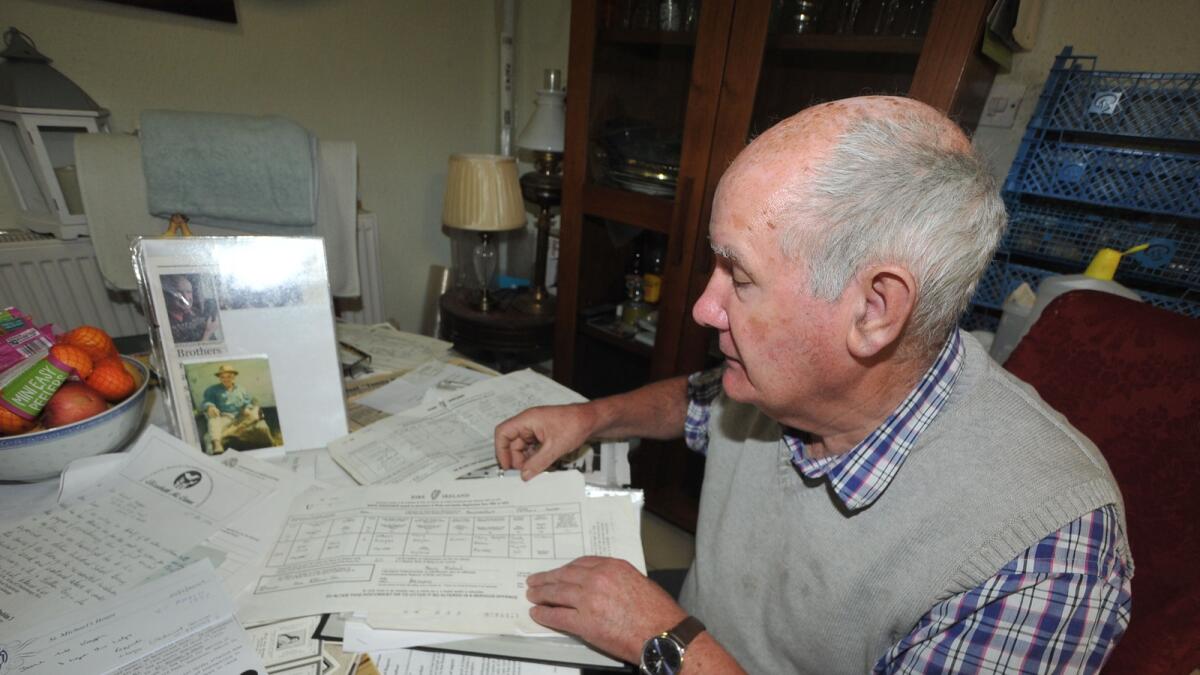 The difficulties he faced finding information about his family added to the hurt of his traumatic childhood, despite the fact it was easier for him to get information than for children who had been adopted.
"I didn't get all the facts over many, many years. I have only recently discovered that all the information has now been transferred to the Tusla offices in Waterford. As soon as the Covid restrictions are over I will be in contact with them again. I want my brothers family to get all the information they need.
"When he came over in the 1970s he was fobbed off by the nuns.
"He went to his grave without knowing who his father was. I still don't know who he was.
"People should be able to find out where they came from."
Paddy was born in the Sean Ross Abbey mother and baby home in Co Tipperary in 1948. His mother, Mary Ann Keegan had been admitted to the home in 1947.
Documents show mother and baby got to spend a few weeks together, until he was fostered and Mary Ann was admitted to the Magdalene Laundry in Sean McDermott Street, in Dublin where she remained until the day she died, just ten years later at the age of 47 from TB.
Paddy was fostered until he was four, spent six years in St Vincent's Orphanage in Drogheda and was sent to Artane at 10.
Growing up very much alone, Paddy always wanted to know his family and shortly after his own wedding in 1977, decided to track down his birth mother.
Unlike, an adopted child, Paddy was able to find out who his mother was and where she was from, only to discover she had died.
He spoke to a nun called Sr Sarto, who gave him the information about his mother, along with a photo.
He found his mother's brother and sister in law who initially denied the connection but later acknowledged the family ties. It was only when he attended the funeral of his aunt in the 1990s that he discovered he had a brother.
"A priest told me that 12 or 13 years earlier another man had come looking for information about his mother.
"He told me he was my brother and had a letter from Sr Sarto.
"She never mentioned him to me. If she did, we might have met a lot earlier and been able to spend longer together," he says. Paddy eventually tracked down his brother in Australia.
"It was wonderful to have so much family around. I had nieces and nephews calling me Uncle Paddy." he said. "It felt great."
Sadly John has since died, but Paddy is still in contact with his nieces and nephews in Australia.