Your Guide to Christmas events and experiences for all the family
We know this is going to be a very different Christmas and will see us embrace a different way of celebrating and socialising. But there is still plenty going on with lots of ways to sample to the full Christmas experience. Here is the Meath Chronicle guide to What's On and Where...
KILDARE - PALMERSTOWN HOUSE ESTATE
Safari Quest, a new self-drive experience over 700 acres at the 5-Star Palmerstown House Estate, Kildare takes place over the Christmas break.
Families will be transported on a journey through fantastical worlds of weird and wonderful creatures from December 27th until January 3rd during this interactive activity.
Guests will join other intrepid explorers to navigate through the Magical Forest, visit the Land of Giants and embark on a journey of discovery through Space Exploration. Adventurers will then tackle Jurassic
Jungle before ending the quest Under the Sea.
The entire Safari Quest escapade can be enjoyed from the confines of your car aka your Safari vehicle creating a safe and enjoyable experience from beginning to end for you and your family bubble.
Before arriving at Safari Quest, families need to download the interactive app where they can choose a team name and photo. Each family will assign a driver, navigator and quest members who will have different responsibilities during the adventure from driving the route to managing the app and looking out for the magical clues.
Safari Quest guide, Billy Brave will lead you through the magical worlds and prompt you to look out for clues, answer the questions correctly to unlock the next world.
Families can book their preferred time slot and upon arrival follow the lead Safari vehicle in a convoy to complete the hour-long journey. Unravel the mysteries and return as heroes, each family will receive a Scroll of Victory via the app once they have succeeded.
Cars including up to 5 people are from €65 each and tickets for 6-8 guests are priced from €75 plus booking fees. Tickets and giftcards are on sale now and are available via the Safari Quest website www.safariquest.ie.
The journey starts down the winding lane at Causey Farm. You're here to search for Santa and maybe get a gift too. But only if you can find him!
Soon you will come across the curious village of Cracker-town. You will meet wacky characters along the way and don't forget to ask everyone where the big man is! But watch out for the Grinch! That old grumpy-boots always sends people the wrong way!
Pass through Bethlehem and see some of the animals including Ivan the camel as you go. You never know who you might meet before you reach Santa's Secret Valley … the Christmas elves live there.
Don't worry if you still can't find Santa – Tinsel who works in the post office definitely knows where everybody lives. You can post your letter in the post office as you drive past.
And when you leave the valley you will meet the big man himself, checking the final details before his big journey around the world. As always, he will make sure there are presents for all the children.
Before you go, you will get a chance to visit some of the animals who are resting in the sheds for the Winter and if you wish, have a family Christmas photo taken in the new barn
Image 1 of 11
Image 2 of 11
Image 3 of 11
Image 4 of 11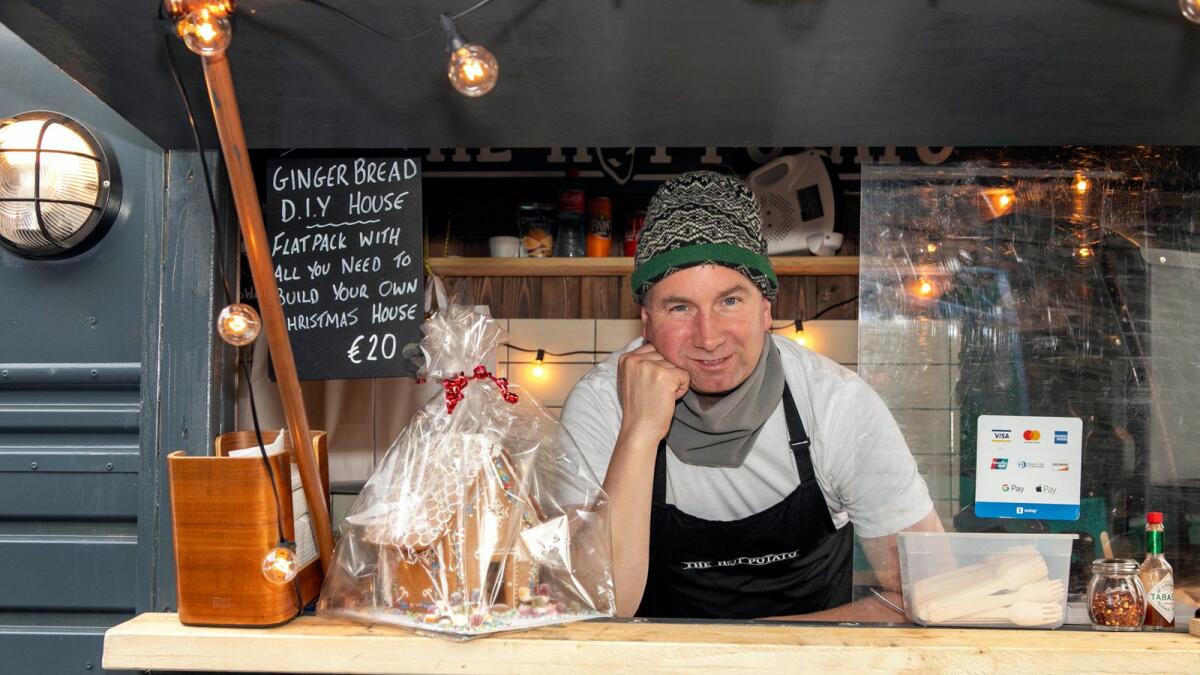 Image 5 of 11
Image 6 of 11
Image 7 of 11
Image 8 of 11
Image 9 of 11
Image 10 of 11
Image 11 of 11
Previous
Next
ATHBOY - CHRISTMAS MARKET
The Twinkle Christmas Market runs in 'Twinkle Lane' at the Lawrence.
in Athboy each Sunday to 20th December. The market itself has 15 artisan, food and gift stalls, and community stalls offering a local Christmas magazine, Athboy gift vouchers which have just been launched by Athboy Credit Union, live Santa window grotto and a Christmas Emporium. There is a click and collect shop located where the front bar would normally be operating.
Donnacha Geraghty will be offering a range of artisan food produce under The Black Bites label and there is a forthcoming offer of a Festive Food Box.
The Athboy Care and Share group is the main charity for the market.
Each week there is a cooking workshop demo by Jeff Norman, former TV 3 presenter, Arun, chef/owner of the Arun Indian Food produce, while Alan Krauss and Pauric White will also cook up a treat showcasing the Killua Castle Range of foods. There will also be a twinkle Gastro food menu to go and festive coffee beverages showcasing another local Trim based company, Essence Coffee.
Christmas Farmers' Market
Ballinacree Community Association will host its first-ever Christmas Farmers' Market fundraiser on Saturday 5th December from 11am to 3pm outdoors at Ballinacree Community Centre (A82 XR12). Over 23 stalls will take part showcasing local produce, home baking, arts and crafts, hot food, hot beverages and more. This event will be held in strict accordance with Government Covid guidelines and restrictions. Admission is free. For further information, contact Brigid on (086) 104 3352 or Mary on (087) 656 6421.
Drive-In Christmas Movies
Retro Drive in Movies is proud to present this all round festive line up to come to Tayto Park for the first time ever on Saturday December 19th and Sunday December 20th. Showing all your festive favourite movies including Home Alone, Santa Clause The Movie, The Polar Express, Home Alone 2: Lost In New York and The Santa clause on the world's biggest LED Screen. Tickets from €30.90 + booking fee per car are on sale now from www.Retrodrivein.ie.
The Santa Clause- 3PM Saturday December 19th
Home Alone- 6PM & 9PM Saturday December 19th
The Polar Express- 3PM Sunday December 20th
Santa Claus: The Movie: 6PM Sunday December 20th
Home Alone 2 : 9PM Sunday December 20th
Have you a Christmas event or experience you want us to feature? Please email gavan.becton@meathchronicle.ie (only) and include the main details (dates, times, websites) etc and supply an image if available. Ho Ho Ho!
Santy will have a house in Kells for the next month or so, where letters from children will be accepted.
One of his elves discovered that Suffolk Street is known locally as 'The Street of the Faeries' (Stráid na Sióga) and felt it was the ideal place for Santy to set up a base in Kells.
Santy will be resting there by the fire and he is looking forward to receiving all the children's' letters. The elves are reading those letters and packaging up the gifts. You can peep in the window and see Santy resting by the fire, but be very quiet, he might be sleeping.
Santy will be there from Friday 4th of December at 5.30pm right up until Christmas Eve.
Kells by Candlelight who have been helping Santy in this urge children and their parents to have a wander around the town to look at the beautiful Christmas windows with Christmas animals, snow and willow lanterns.
They are also urging people to shop local!
Kells by Candlelight will be holding a celebration this year as usual, but with a difference. This year, due to current restrictions they won't have our annual parade with willow lanterns, that children and families have so enjoyed in recent years. However, the group is dedicated to celebrating the magic and wonder of Christmas and no pandemic will stand in their way!
"For 2020 we are working quietly behind the scenes with business people and volunteers in Kells to create a very special Christmas atmosphere in the town. Be on the lookout for shop windows we have delightfully decorated with Christmas themes and, of course, lots of our traditional willow lanterns," says spokesperson, Ina Olohan.
"Thank you to local shop owners who have kindly donated their premises. We will also be lighting up our public buildings, the round tower, the fair green and the old courthouse, with welcome support from Rossa Lighting, Meath County Council and Kells Local Heroes," she said.