'I'm so glad to get it finished, there was a few times I hit the wall'
Image 1 of 6
Image 2 of 6
Image 3 of 6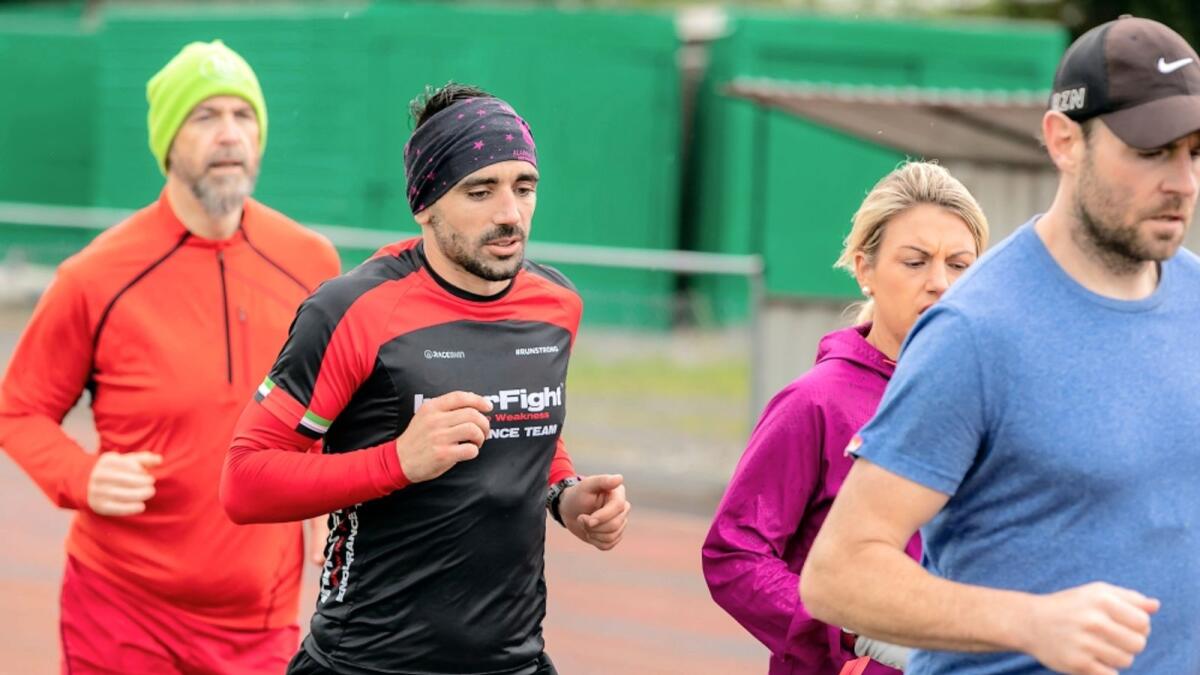 Image 4 of 6
Image 5 of 6
Image 6 of 6
Previous
Next
He set off under a thunderous downpour and came home in a gale but Keith Russell proved to be his very own force of nature after completing a gruelling 24hour run around Claremont Stadium track.
The Navan AC runner who captured the hearts of the county and country when running marathons with his beloved daughter Alanna - who sadly passed away in December 2017 - set off on his quest to beat the Irish record of 244 km in 24 hours at 12pm on Saturday.
The conditions were nothing short of atrocious with regular showers and stiff winds always likely to hinder that ambition. In the end he completed a staggering 226 kms - that's over five marathons - when he finished at 12pm today (Sunday)
A large, socially distant crowd of supporters came out to roar the Navan man home as he carried his weary bones around the track for a the last couple of laps. Runners from his Navan AC club provided support, just as they had done over the previous 24 hours.
First to embrace Keith was proud dad Ronnie, who described his son's achievement as "unbelievable". "I'm so proud of what he has done here, it's something else."
Catching his breath at the finishing line, Keith told the Meath Chronicle: "I'm so glad to get finished. there was more than a few times I hit that wall and I'm so grateful for the support I had through the night and out here again today.
"It's not about me at all, anything that can be done to help out and get the track done, that's what it's all about. You saw the conditions, we had wind and rain all night and you can't control that, all I can control is how I ran, and I probably set off a bit too fast and that may have killed me a bit in the end but I just kept plugging away and kept going."
Centre Manager at Claremont Stadium, Marjan Boers described Keith's efforts as "superhuman".
"What a superstar he is for what he is doing for the stadium and all the clubs and groups that use it. I think we raised over E2,000 in cash donations since Keith started the run and we hope we'll add a lot to that too. The GoFundMe page (search Claremont Stadium) is still active if anybody wants to contrbute."
Claremont Stadium has been in existence for nearly 40 years. It is home to Navan Athletic Club and Parkvilla Football Club and has grown to be the sporting and community facility with a footfall of 75,000 and over 200 groups. The 8-lane track was laid 20 years ago, normal life span is 10 to 12 years and by now it is well worn and needs to be fully replaced.
According Marjan, Navan AC have over 500 members who use the facility as well as several other athletic clubs, learn to run groups, men on the move, special Olympics Navan, and local football clubs.
"We host the Meath County Athletic Board Championships here in the stadium annually as well as club leagues and hurdles competitions. We host the Meath primary and secondary schools track and field competitions.
"The club was awarded 180K under the Sports Capital Programme and we have further donations from Meath Local Sports Partnership, local donations and we have set up a Go Fund Me to raise a further 50K.
"So far we have raised nearly 15k through the GoFundMe page and the club is very grateful to all donors for their incredible support.
Claremont Stadium's next event will be a virtual 5k and family 2k starting from the 1st of July till 8th July. People can register on myrunresults.ie